Production team
Woven Ceramic Echizen
It was realized through a collaboration of four companies.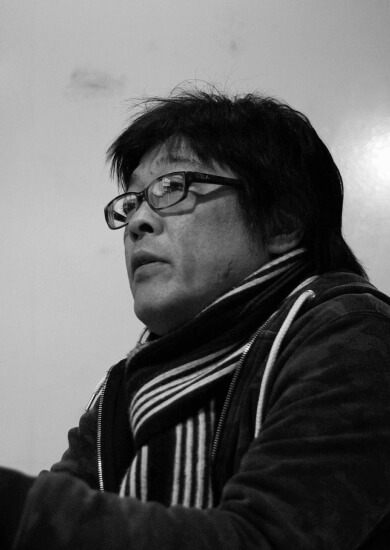 Hiroshi Ogasawara Architectural Plan
Hiroshi Ogasawara
architect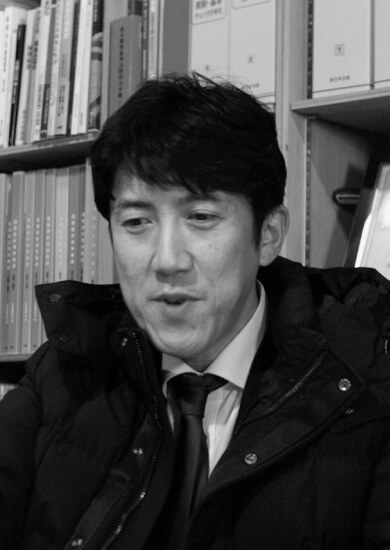 Yoshimitsu Industry,Inc.
Tomoyuki Yoshida
President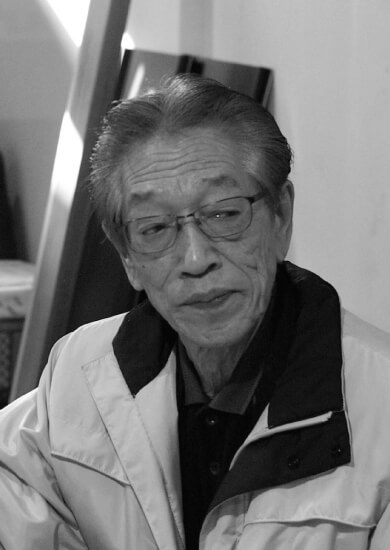 Fukui Prefecture Tile Industry Cooperative
Kozo Fujiwara
managing director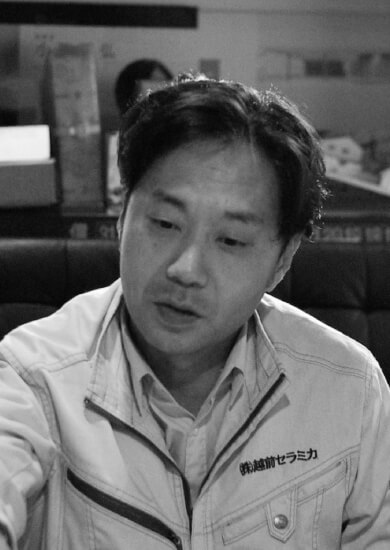 Echizen Ceramica,Inc.
Yoshifumi Ishiyama
President
---

Production team secret story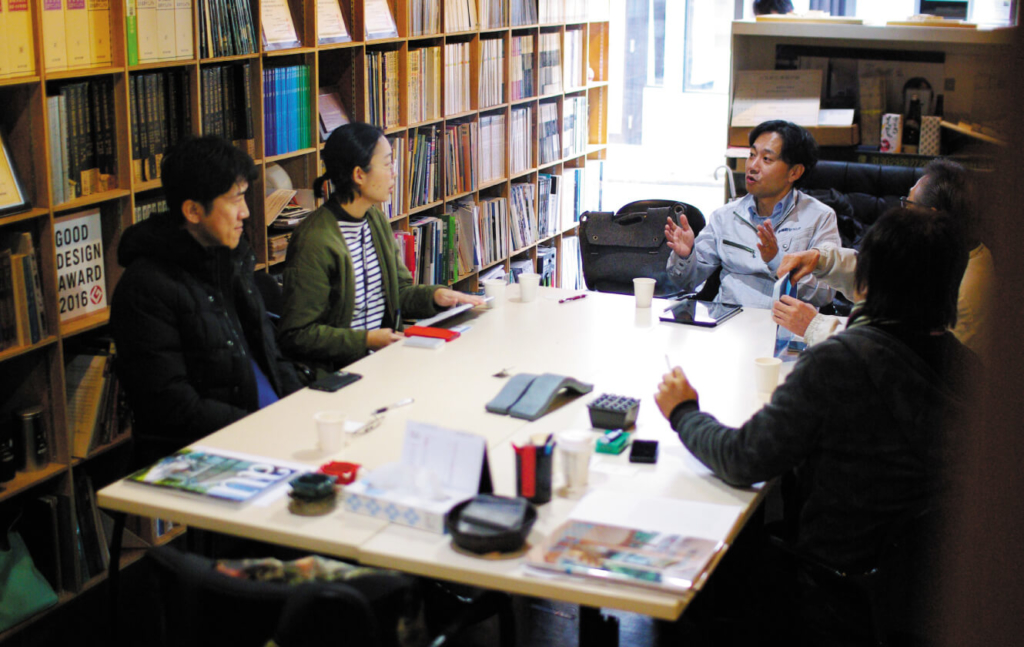 The hint is the fabric in Matsuoka.
Woven tiles creating beautiful arches.
ー How was this tile created?
Mr. Ogasawara:In a central Fukui area, which is a 5 minutes' walk from the station, when I was arranging a store design contract for a yakitori restaurant called Yasugiya, we were talking about wanting to use prefectural material for the exterior wall. Prefectural material is mostly wood. When you expose wooden walls to wind and rain, they'll get easily damaged unless you put out the eaves. However, since the station has many buildings lined up, there's not enough space to put out the eaves. Also, since cedar is used in other prefectures, it has no novelty. As I was thinking of new ideas, my father's house was running a tailor business in Matsuoka. I remembered that there were many textile mills in that area. I was thinking about how I wanted to represent the fabric texture, and I concluded that the Echizen kawara arch would be perfect.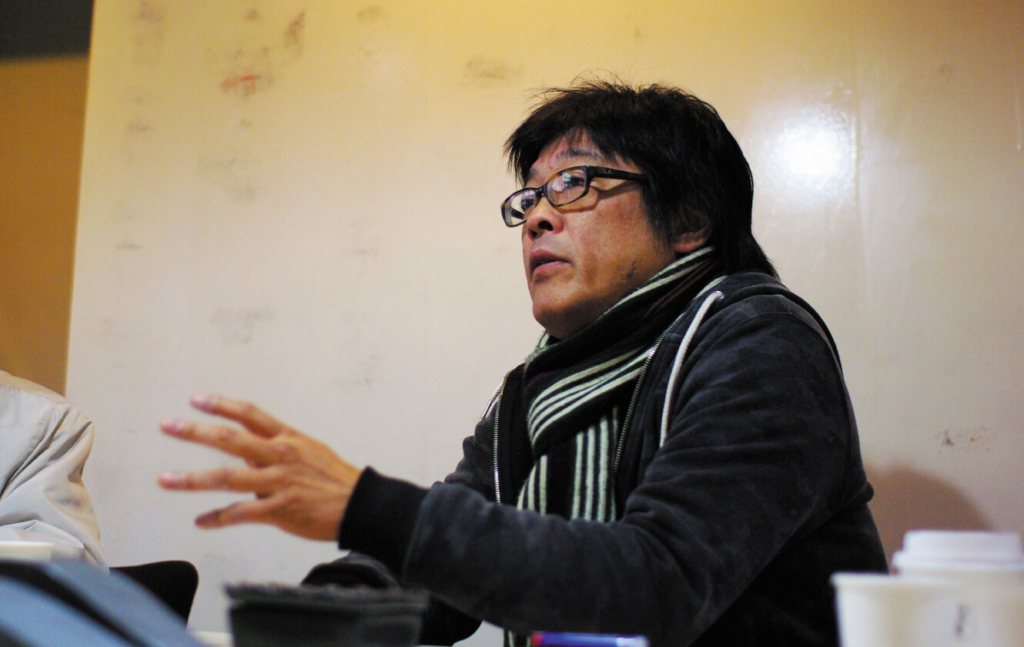 Mr. Yoshida: I am Mr. Ogasawara's kohai, and I happened to be dealing in roof tiles. He consulted me right after he came up with the idea. The thing Mr. Ogasawara designed had an interlocking arch and it was like plain woven fabric. I thought, "Wow! This is art." However, since it was the first time to use kawara on a wall, I consulted Mr. Fujiwara of the union.
Mr. Fujiawara:Initially, I thought that, "Oh, great. Here comes a troublesome idea." But at the same time, I thought that it could work and that it could be interesting. It's because the shape is using wagata, a fundamental element of roof tiles. After we talked about how I would be in charge of designing the shape, I thought about the appropriate thickness, carefully designed 2-30 different shapes and went through the process of trial and error.
Mr. Ishiyama: Using the shape Mr. Fujiwara made, we burned the tiles at our factory. After the testing process at the union, it took about 2-3 months. Echizen kawara must be burned at over 1200 Celsius. We collect prefectural dirt and blend it as good, fire resistant material for kawara. It's quite heavy, so the weight reduction process was difficult.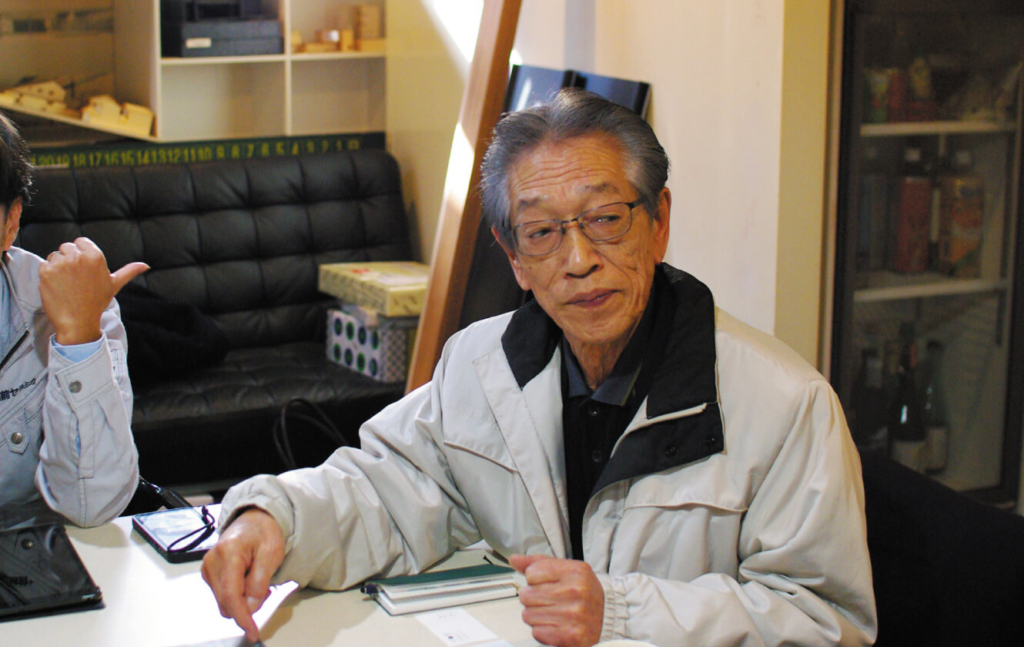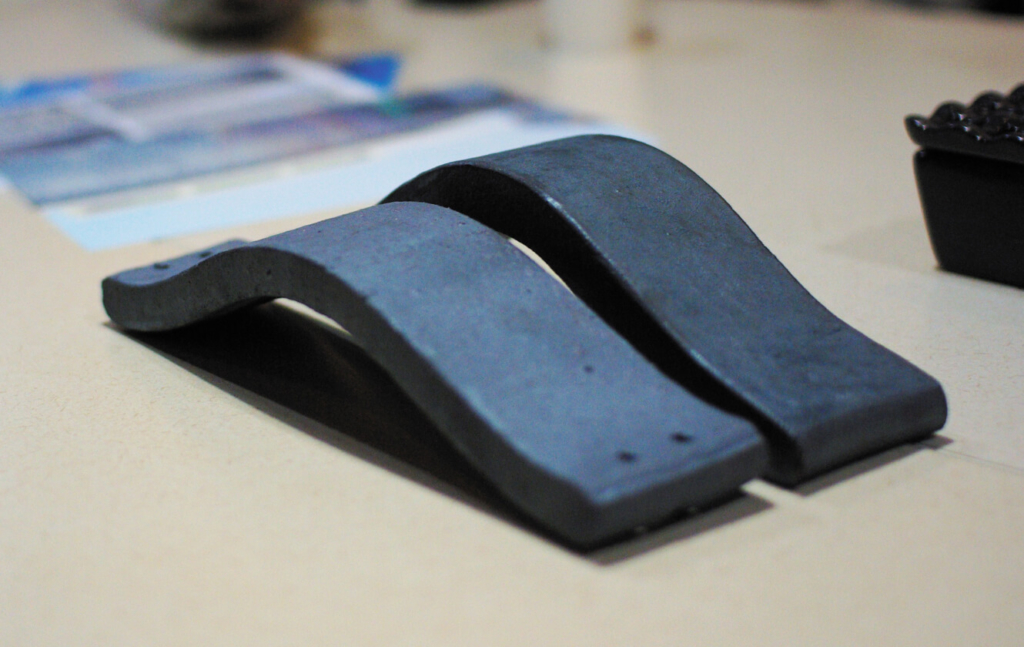 The silver gray texture, the simple shape,
and the reusability.
ー The silver gray texture, the simple shape, and the reusability.
Mr. Ogasawara:Echizen kawara has a very simple color and shape. So, it works well with Japanese architecture as well as Western architecture. If you use it for a wall surface, it adapts to anything, and I think the material will be impactful, functional, and unique.
Mr. Ishiyama:Gin nezumi is a distinct color of Echizen kawara. So when you burn Echizen kawara at a high temperature, there'll be some unevenness in the size and tint. But even if you use it to cover a wide wall, the uneven baking gives it an exquisite texture. The end result is a unique and attractive feature of Echizen kawara.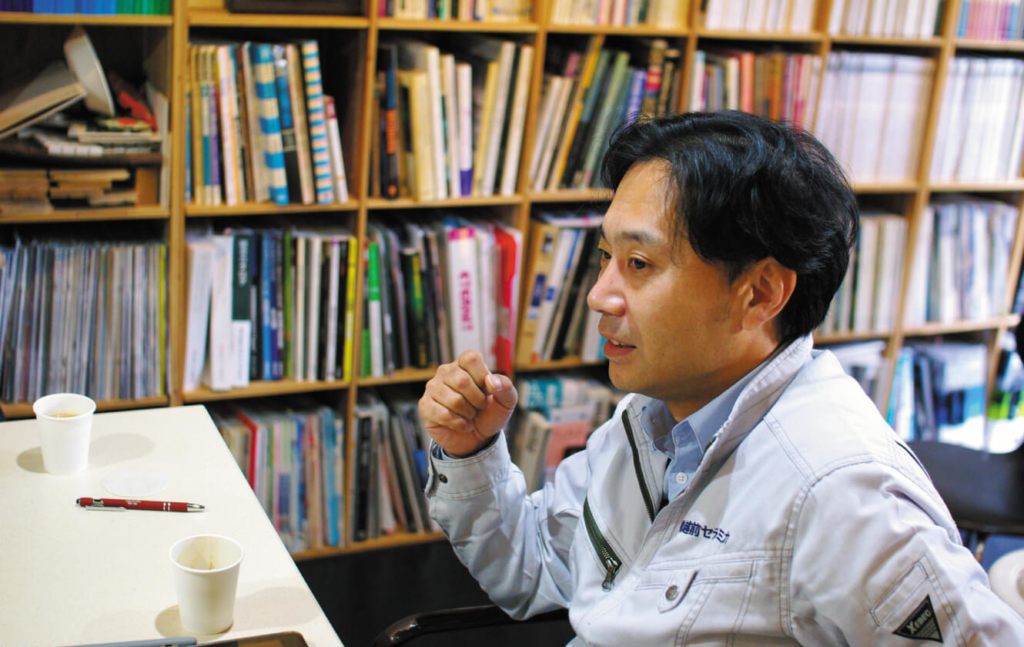 Mr. Yoshida: Since you can still use it despite some minor unevenness, there won't be much production loss. And as long as it doesn't break, it's something reusable and ecological. However, in terms of efficiency, there's still plenty of room for improvement.
Fujiawara: Since you can use it for walls, it might be interesting to bury it in the yard too. Also, it would be cool if you could connect the wall to the floor and let it create a pattern. I look forward to completing more tasks like weight reduction and efficiency improvement, as well as creating a more versatile product.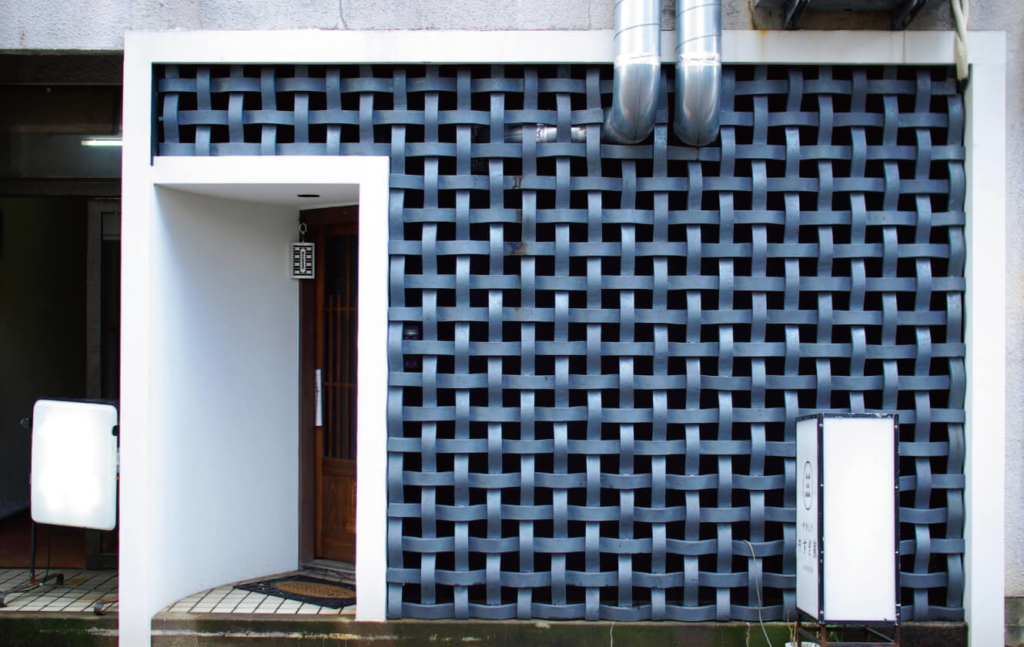 Bigger buildings, Fukui's landscape,
On to the world
ー What's the outlook for future projects?
Mr. Ogasawara:Although using Echizen kawara as an exterior for small shops is a new method, eventually, I would love to cover a big building like the Sun Dome in kawara. If you see it up close, the arch is really interesting, and as the scale gets larger, the texture will change. For example, if we use it for the walls of central Fukui, we will get a big, twisty, fabric-like texture. If we can make something hard like kawara look soft and fabric-like, I think you can have some interesting experiences.
Mr. Yoshida:As Echizen kawara, this is an innovation in this new market, so we would like to do further research, collaborate with other Fukui industries, and create something that has never been seen before. And since it's reusable, it's definitely possible to use it for temporary structures.
Mr. Fujiwara:Nowadays, the number of tiled roof houses in Fukui is decreasing. Also, there are craftsmen making tiles. With this new and innovative method, we expect the skill of making Echizen kawara to be passed on as a tradition to future generations.
Mr. Ishiyama:If I can get this far, I want to do global expansion.
(Listener / text : MIKIO SATO)